Meg loves sleepovers & she had been planning one for the September holidays since I don't know when :p And at long last the big day (or rather night) finally arrived.

A little finger food to keep the kids occupied while waiting for the others to arrive
The 1st programme for the night is BENTO-MAKING!!! It was Meg's idea & it turned out to be a great one because all of them were really keen & enthusiastic about it. Meg & I went shopping in Meidi-Ya the day before and we bought lots of ingredients! I've even laid out my precious bento-making tools & lunch boxes for them to get creative. The amazing thing was that there was hardly any wastage. The girls were popping the leftovers into their mouth while making their bentos. Haha ..... they were so stuffed after that!
They were listening to me intently as I taught them the basics. And since Meg had seen me done it so many times, she was happy playing the role of the photographer. Wow ..... it was tough work, at the end of tutorial, sweat was trickling down my back & my hair plastered to my face.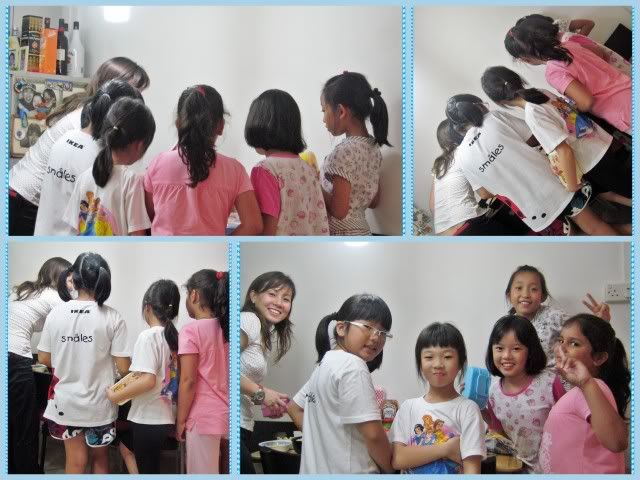 Once they got started, there was no stopping them! And in the background, Meg was telling her classmates non-stop how good her mum was at bento. It had me grinning like a Cheshire cat :DDD Everything had been worth it!
I was totally amazed by their creativity, there's so much that I can learn from them! This bento belongs to Charlene. A pity she had to leave midway & it wasn't as finished as she would have liked it.
Here's Jaanvi's ~~ I love those cheese clouds!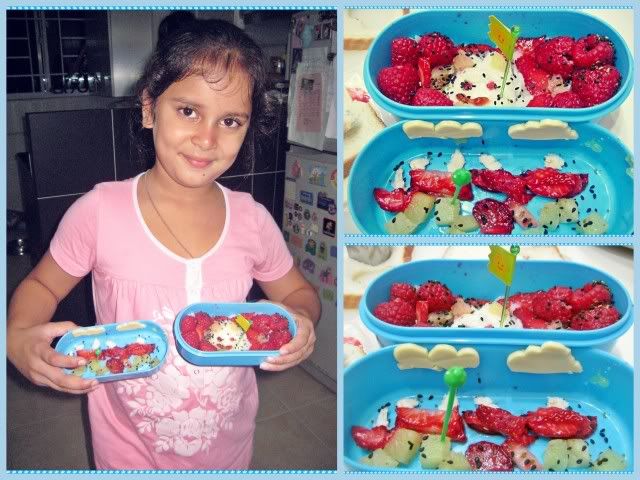 Ha Young is a lovely Korean girl & Meg's bestie.
Meg's besotted with Naruto --- Hahaha ....... hence NARUTO bento! Great job with the Konoha sign on the headband using nutella ;)
Rei Yi is ingenious turning the baking cup into an umbrella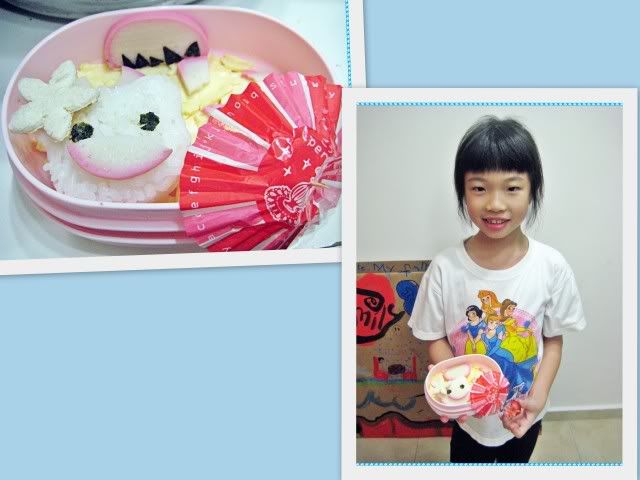 Arianne's the most detailed of the lot. All of the bentos look so yummy, right? So for those of you out there still hesitating, you know you can do it cos these 8 year olds did it! I lent them the lunch boxes to bring home so that they can show it off to their families & printed the pics for them to still be able to feel proud when their bentos are gone.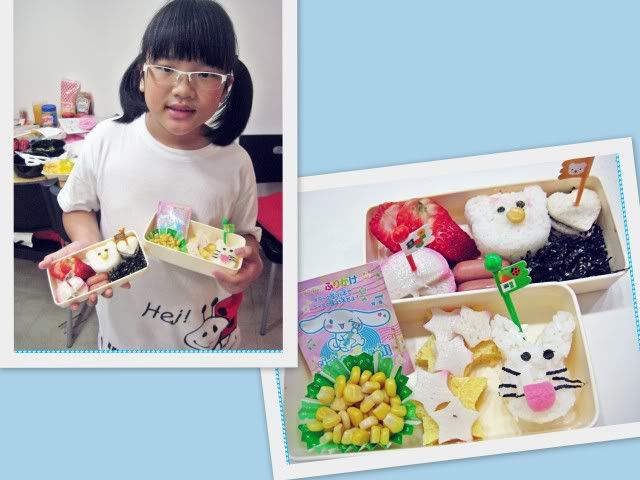 While I take a break (exhausting!), they were amusing themselves singing & dancing to the Wondergirls ~~ I wanna nobody nobody but you! Hahaha ........
Then they moved on to board games & nearly brought the house down with their screams. Girls will be girls, I guess :)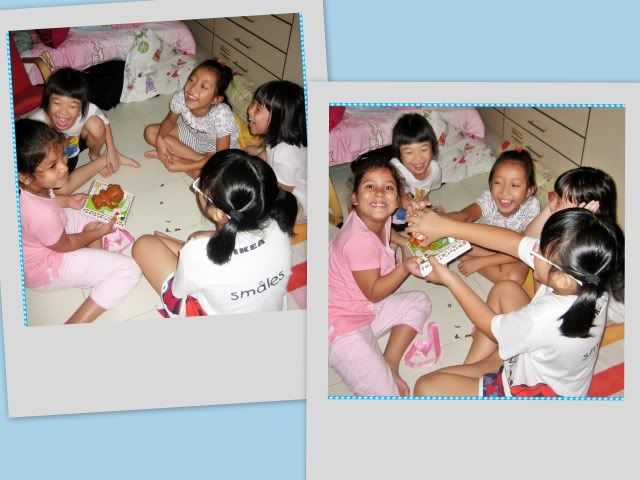 They shared the room with me as there were too many & unable to accommodate into Meg's room.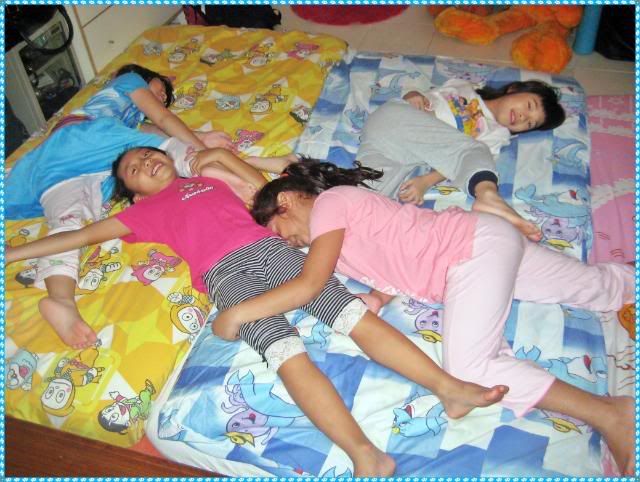 They totally love having their pics taken & volunteered all kinds of poses for me. Wahahaha ...... this is so funny & spontaneous!!!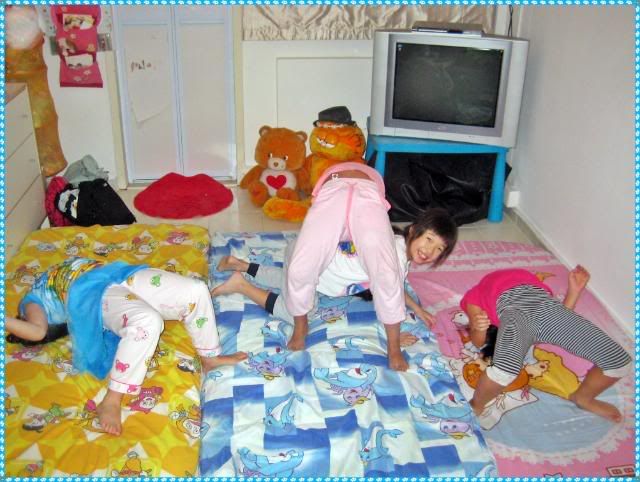 And then they tried jumping ..............
This pic was totally random but Meg thought up of a story line which was hilarious. Again linked with Naruto of course ------ Konoha Senpuu??!! -__-""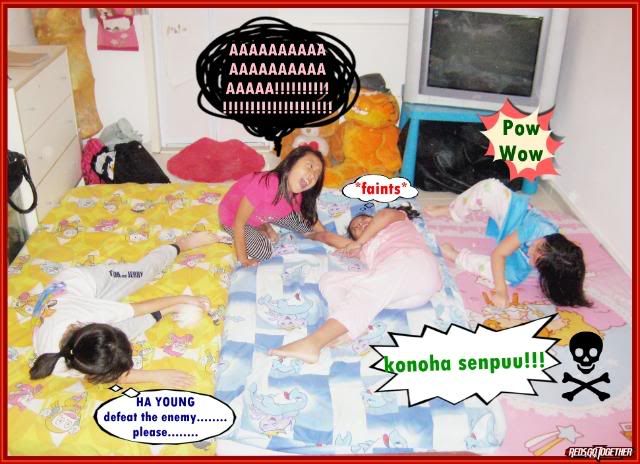 Last activity before they go to sleep. Happily snacking & watching the DVD I rented (Dogs vs Cats or something like that). And it was way past 3am when I heard the 1st little snore. Whoa ...... it worried me for a moment that they might never stop their chattering!
I made sure they wake up to a hearty breakfast before their parents came to pick them up. The girls told me they had a great time & Meg was really elated that her slumber party went so well!